--Important Links--

Home

Link to Us

Absolut Products

Contact Absolut



Scandal News

Separatist Movement Evidence

Sign up for Action Alerts

Illegal Immigration Boycott
Coalition (NIIBC)

Americans for Legal Immigration

ALIPAC

Boycott Absolut

William Gheen

William Gheen Web Site

End Illegal Immigration

Against Amnesty





Join the ALI-PAC Email Alert List





---
Social Media Leaders
---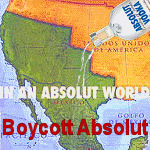 ---
Boycott Absolut Vodka.
A Project of the National Illegal Immigration Boycott Coalition (NIIBC) and Americans for Legal Immigration PAC (ALIPAC)
www.alipac.us



BREAKING NEWS!
Number of Site Visitors

There is a rapidly growing separatist movement in the United States that is being fueled by illegal immigration across our Southern Border with Mexico.

While many in the American media try to ignore or play down the threat, this radical movement is much stronger than most Americans know and global companies like Absolut are trying to cash in on it.

Sentiments that the Southwest United States rightfully belong to Mexico are so prevalent in Mexico and among illegal aliens that the Absolut Vodka company ran this ad on a billboard and in a Mexican magazine called Quien

The ad's message to the Mexican audience is "In an Absolut (ie Perfect) world, 1/3 of the US is returned to Mexican control.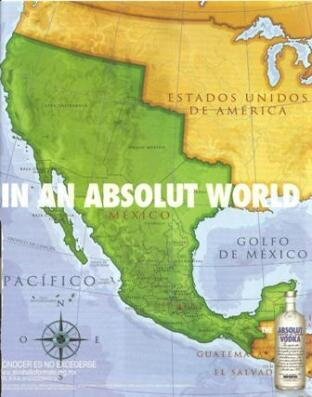 The National Illegal Immigration Boycott Coalition (NIIBC) represents over 100 civic organizations fighting for secure borders and immigration enforcement.

We are launching a formal, national, and sustained boycott against the Absolute Vodka corporation for promoting, encouraging, and pandering to separatists that threaten the territories, sovereignty, and national security of the United States of America.

Please take the following simple steps:

Read more about the boycott and Aztlan separatist movement below to educate yourself and support our boycott!
Use our "