--Important Links--

Home

Link to Us

Absolut Products

Contact Absolut



Scandal News

Separatist Movement Evidence

Sign up for Action Alerts

Illegal Immigration Boycott
Coalition (NIIBC)

Americans for Legal Immigration

ALIPAC

Boycott Absolut

William Gheen

William Gheen Web Site

End Illegal Immigration

Against Amnesty





Join the ALI-PAC Email Alert List





---
Social Media Leaders
---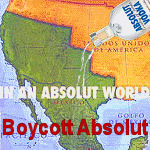 ---
Separatist Movement Evidence: Boycott Absolut Vodka
A Project of the National Illegal Immigration Boycott Coalition (NIIBC) and Americans for Legal Immigration PAC (ALIPAC)
www.alipac.us
www.illegalimmigrationboycott.com



The Reconquista or Aztlan Separatist Movement in America or Indigenous People's movement.

There is a rapidly growing separatist movement in American that is being fueled by illegal immigration. The lack of adequate border security and lack of enforcement of America's existing immigration laws is allowing millions of people that have no regard for US Borders, laws, or sovereignty into our nation.

An exploration of the messages from this movement illustrates that most Mexican nationals have views towards the United States that are at least contemptuous and at most... open hatred.

The illegal immigration movement in America blames America and Americans for the 'theft of lands' from Mexico despite the fact America took the territory after Mexico controlled it for only 17 years via the Mexican American War which cost over 13,000 American soldiers their lives. We even bought part of the land via the Gadsen Purchase.

Beneath the territorial dispute with the US, many illegal aliens blame Americans for the genocide of millions of their Native American ancestors.

They view Americans of European and African decent as invaders that do not belong on this continent. They see America as one of the last remaining colonial constructs in this hemisphere.

There are three primary political positions in this debate. There are those that warn America must secure our borders and reverse illegal immigration by enforcing our existing immigration laws to diffuse this situation. That is the view we hold.

Others support the Reconquista, Aztlan, or indigenous people's movement and feel that political control of the Southwest United States should be returned to Mexico by providing an Amnesty or "path to citizenship" for over 20 million illegal aliens which would effectively give Mexico political control within a few years.

Others deny that any significant separatist movement exists. They claim that the separatists are only a fringe element and that anyone that is concerned about this issue is a racist. Groups like the ADL and SPLC have thrown their credibility out the door in a desperate attempt to try and silence those that raise the alarm.

It is up to you to decide which political group you support.

Provided below are video, audio, image, and text resources that give you a glimpse into the Reconquista. This is only a small sample and we encourage each of you to do your own research on this matter.

We must warn you that you cannot rely on the Main Stream Media to provide this information to you.

We do know for a fact that the separatist movement is real, while we cannot tell you how large it is.

We do know that the movement has the following resources.


Leaders that are organizing illegal aliens, immigrants, and indigenous people to retake the Southwest.
Groups and organizations that are doing the same.
Funding and propaganda support from Global corporations and the government of Mexico.
Thousands of supports that take to the streets chanting separatist messages.
We have arranged some of this information in the following order.

Images & Signs
Audio Files
News and Text Reports
Videos
Organized Efforts

Thank you for your time and interest.

The ALIPAC Team
www.alipac.us



Images & Signs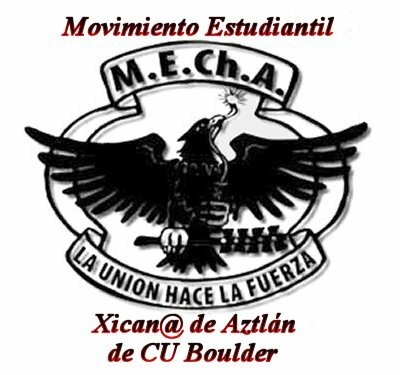 This is the Mecha / Aztlan Official Emblm and can be found under student groups on the Univeristy of Colorado's web site under student groups. This same group can be found at Universities across the Country.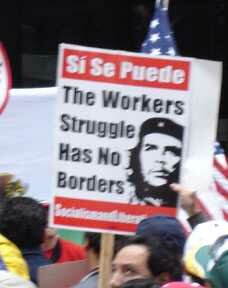 May 2006
Che No Border Message During the MAy Marches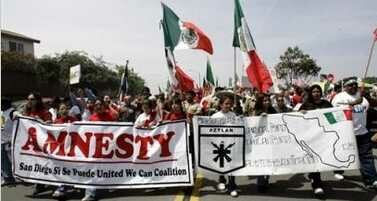 May 2006
Another Message of Aztlan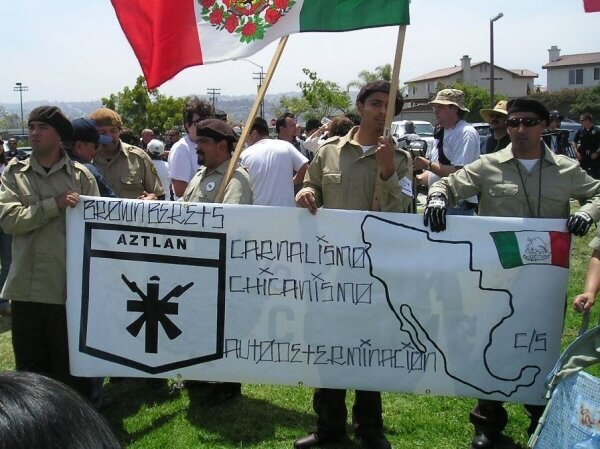 May 2006
One of the many images taken on the May Day marches by illegal aliens and the8ir supporters.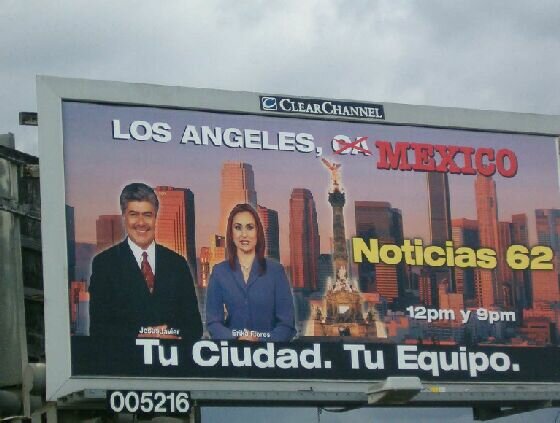 April, 2005
An ALIPAC supporter spotted this billboard ad for a local TV station in Los Angeles and sent it to us. Eight days later these billboards were coming down due to the national outcry and the work of groups like ALIPAC and Save Our State along with Los Angeles talk radio shows!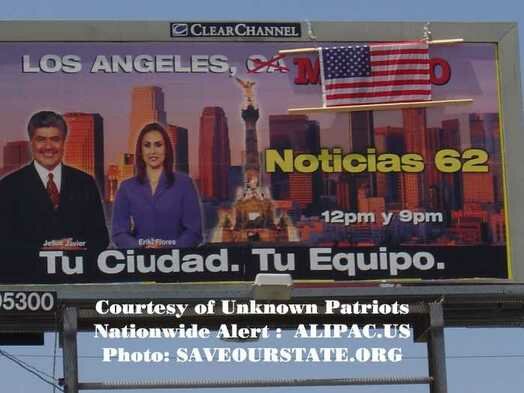 May 5, 2005

During the 8 days of protest, unkown patriots scaled one of the 70 billboards with this image and covered Mexico with an American flag. CBS, NBC, and ABC all refused to show these billboards or mention this scandal in their news coverage.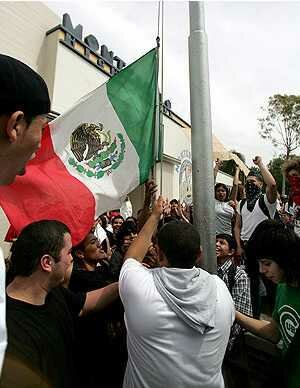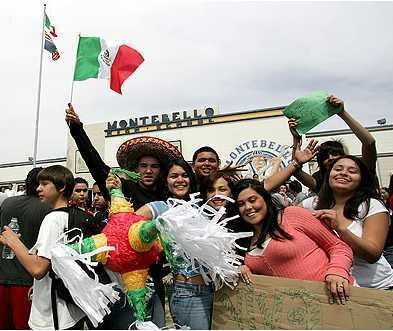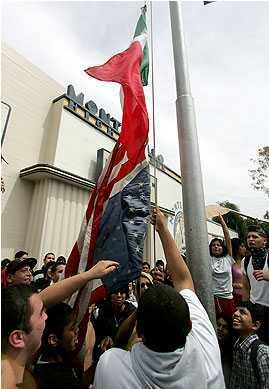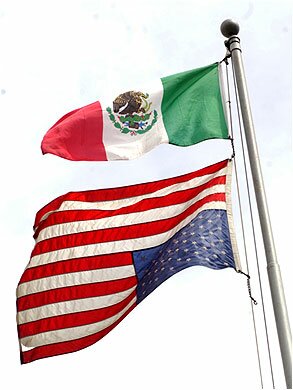 March 27, 2006

Mexican/Central American students to walk out of schools across the nation at a set time to support Amnesty for illegal aliens inside of America. A large mob of students pulled down the American flag, inverted it into the military distress posture which is only used to signify American troop lives are in danger. They then raised the flag inverted with the Mexican flag above the American flag.

TOP




Audio Files

We would like to thank CCIR for recording and providing these audio files from the 90's where political leaders express separatist sentiments during their speeches in California. Please listen carefully to these and if you would like to hear more of CCIR's recordings, you can listen to them online or order a CD CLICK HERE



TOP




News and Text Reports



TOP




Videos

Reconquista Mexican Consulate Claims US belongs to Mexico!


March 8, 2008
Mexican consulate employee taunts border security protesters and claims part of America will be returned to Mexico.



American Veteran Removes US Flag from beneath Mexican Flag


October 2, 2007 US Army Veteran, Jim Broussard, cuts down American flag being flown beneath Mexican flag outside of a bar in Reno. U.S.S. Intrepid Association Inc., in November of 2007 presented Broussard with a U.S. flag that had been raised over the Intrepid July 12, 2007.



Lou Dobbs Show Covers Maywood CA Flag Incident


Maywood, CA
August 26, 2006
CNN's Lou Dobbs Show covers the story about how thousands of illegal aliens and their supporters took control of the property of a US Post office. They took down the US Flag and hoisted the Mexican flag up. Many brave Americans were there to document this over separatist sentiment.



Extended Footage of Maywood CA Mexican US Flag Incident


Extended footage of the Maywood, CA US vs Mexican flag incident on August 26, 2006. Riot police struggle to remove the Mexican flag from Federal property as an angry mob of illegal aliens and their supporters celebrate the raising of the Mexican flag and removal of the US flag on American soil.

TOP



Organized Efforts

La Voz de Aztlan
www.aztlan.net
La Voz de Aztlan (The Voice of Aztlan) publishes news, commentaries, opinions, editorials, news research, news analyses and scholarly writings on La Raza or Mexicans or other Latinos.

MEChA
www.nationalmecha.org
The acronym MEChA stands for "Movimiento Estudiantil Chicano de Aztlan." or "Chicano Student Movement of Aztlan."

MEChA is an Hispanic separatist organization that encourages anti-American activities and civil disobedience. The radical members of MEChA who refer to themselves as "Mechistas," romanticize Mexican claims to the "lost Territories" of the Southwestern United States -- a Chicano country called Aztlan. In its national constitution, MEChA calls for self-determination by its members to liberate Aztlan. MEChA's national constitution starts out: "Chicano and Chicana students of Aztlán must take upon themselves the responsibilities to promote Chicanismo within the community, politicizing our Raza with an emphasis on indigenous consciousness to continue the struggle for the self-determination of the Chicano people for the purpose of liberating Aztlán."

Aztlan Rising
http://aztlanrising.com

Mexica Movement
http://www.mexica-movement.org/
From the Their Web Site:
We are Nican Tlaca, the Indigenous People
of Canada, U.S., Mexico, and "Central America".

We reject all European divisions of our continent.

We reject the artificial border divisions of our people.

We reject the White Supremacist ideology that claims Europeans are permanently endowed with the right to define us and classify us to their liking.

We include "First Nation" and "Native American" and "South American" Nican Tlaca (Indigenous People).

We say, "No to occupation!"

We say, "This is still our continent!"
We say, "Europeans are the illegals--since 1492!"





TOP











Visitors
Paid for by Americans for Legal Immigration AMERICANS FOR LEGAL IMMIGRATION PAC
www.alipac.us


Tel: Toll Free:
FEC ID:
[Privacy Policy]


You can find out more about Mr. William Gheen at his web site


absolut, vodka, boycott, coalition, Mexico, Americans, border, map, ad, advertisement, William Gheen, apology, billboard, legal, illegal, immigration, aztalan, separatists, reconquista, ALIPAC