--Important Links--

Home

Link to Us

Absolut Products

Contact Absolut



Scandal News

Separatist Movement Evidence

Sign up for Action Alerts

Illegal Immigration Boycott
Coalition (NIIBC)

Americans for Legal Immigration

ALIPAC

Boycott Absolut

William Gheen

William Gheen Web Site

End Illegal Immigration

Against Amnesty





Join the ALI-PAC Email Alert List





---
Social Media Leaders
---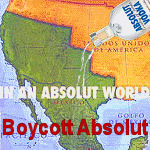 ---
NIIBC - National Illegal Immigration Boycott Coalition
www.alipac.us
The NIIBC currently has sustained boycotts against Bank of America and the Absolut Vodka company.

The NIIBC is a group of over 100 non racist and non violent groups that advocate border security and enforcement of immigration laws in the US. The group is administered by William Gheen of ALIPAC which is also known as Americans for Legal Immigration Political Action Committee.

To visit the participating organizations and learn more about the boycott coalition, please visit...





Visitors
Paid for by Americans for Legal Immigration AMERICANS FOR LEGAL IMMIGRATION PAC
www.alipac.us


Tel: Toll Free:
FEC ID:
[Privacy Policy]


You can find out more about Mr. William Gheen at his web site


absolut, vodka, boycott, coalition, Mexico, Americans, border, map, ad, advertisement, William Gheen, apology, billboard, legal, illegal, immigration, aztalan, separatists, reconquista, ALIPAC